"My goal in a painting, whether working outdoors or in the studio, is to give you a spontaneous
impression of the beauty that I find in ordinary things near and far.
Inspired by light, my paintings are about capturing moments in my life
as it unfolds around me." --Sherrie Russ Levine
Recently Published in: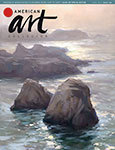 Thrilled to have my paintings featured in the article Southeast Showcase in
American Art Collector Magazine, and to have SOLD both "Orange & Blue Floral" and "Quiet Reflections"
featured in the article.

All material Copyright 2014, Sherrie Russ Levine